Do you want to make a difference?
How about volunteering with us?
We have a number of opportunities for people of all ages, both within India and outside, to come and volunteer alongside our Love the One teams in India.
Check out below the ways you could come and join in.
For more information please email Liz Gregson, our Volunteer Co-ordinator.
Short term visit...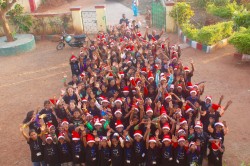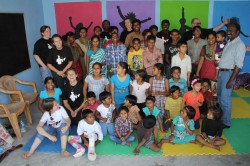 We have a number of limited opportunities for people to visit our work out in India for a short time. 1-2 week team trips are arranged a few times a year, to allow people to gain exposure of what life is like in a developing country. This is about changing you, rather than changing India!
Team trips have varied from helping to put on a Christmas party for two hundred children, renovating and painting children's institutions or being helping hands into the ongoing children's projects that we run. It's great fun!
Give a year...

Are you considering a Gap Year? Perhaps you are considering working overseas in the future and want to get some work experience as an intern? Have you taken early retirement and want to give back? If so we invite you to consider coming and working alongside our teams in India.
Love the One Team are on the look out for dedicated people who would be willing to volunteer for longer term placements. This is not for the faint-hearted... the climate is hot, conditions are tough and you will see things that will break your heart.
To work for a year in India with us does cost! Flights, visas, vaccinations, insurance all mount up, and we would also ask our longer term volunteers to consider raising some money for the projects you will be working alongside too.
However, it will be life changing for both you and the communities you work with, so come on and take the plunge!
Read some of our volunteer reports about life in India with Love the One!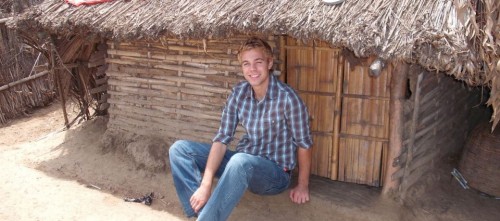 Medical Electives...
We offer places for medical elective students who are interested in community health and tropical paediatrics in a developing country setting. Places are limited so if you are interested, write to us as early as you can to secure a place!
* Indian medical students are also welcome to apply - we would love to have you!
Click here to read of others who came!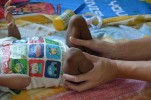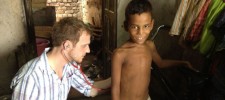 Specific skills...
Have you got specific skills that could make a difference? We are passionate about skilling and equipping our staff teams and communities out in India and are on the look out for those with skills to come, for a short or long time, to help impart some of your skills and train others up.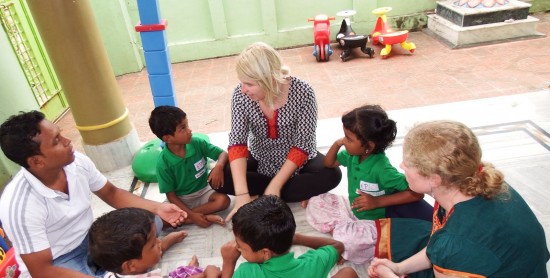 We particularly would love to hear from:
School teachers
Are you a teacher who is passionate about education and experienced. Would you consider helping to invest and help train our teachers in creative, fun ways of teaching?
As we establish a new primary school program we specifically are looking for an experienced teacher who would be willing to travel out from time to time to help skill up our school team. If this is you we would LOVE to hear from you!
Youth Worker
We are looking for individuals who are passionate about mentoring the next generation, and experienced in running youth programs. If this is you, and you would like to come and work alongside our emerging youth team then we would love to hear from you.
Short term opportunities are there to help lead and co-ordinate a youth event. We also have a longer term opportunity to help develop our emerging youth work out in India.
Administration and Communications
We are looking for somebody to come for 12 + months to work in India alongside the UK Directors of Love the One as their PA, providing administration and communications support.
Please email us more more information about this role: info@lovetheone.org
Physio/OT
Are you a Physiotherapist or an Occupational Therapist who could spare 2 weeks to come and teach basic skills to our team out in India? We run 1 week "Therapy Weeks' where we invite our children with special needs to come from remote villages for a residential week with their parents. As well as their medical check-ups and loads of play and fun, we also offer to teach parents simple physio exercises and offer advice regarding aids they may need.
An amazing opportunity has opened up for physiotherapists and occupational therapists to join our pioneering team out in India as we shape our first community rehabilitation centre in India. Our Children's Centre opened in May 2015. We are looking for a pioneering person who can help shape the work and who is committed to a minimum of one year with the team.
If you are interested in this role, please email Dr Cat, our Clinical Lead for more information.
Doctor
Are you a paediatrician or GP (Family Medicine Doctor) or just interested in Tropical Medicine? * We would love to have some extra pairs of hands to come and work alongside us as we develop innovative and strategic ways of implementing community health in areas with little or no medical care.
Looking for doctors, whether junior or senior, for a minimum of 3 months to come and join our community paediatric team. Contact Dr Cat, our Clinical Lead for more information.
* Indian Doctors - we would LOVE to hear from you!
Other!
Remember... if your skill set does not fit into the above list, this does not disqualify you from volunteering with Love the One!
If you have passion to make a difference and want to come and join in, we would love to hear from you!
Contact our UK Volunteer Co-ordinator for more information: liz.gregson@lovetheone.org