All children deserve the right to health care...
Medical Clinics - free healthcare to children in need
We aim to provide free, accessible, comprehensive community paediatric health care to children in need.
The children we treat come from very difficult poverty stricken backgrounds, many are malnourished and traumatised. Some of the children have been child labourers since an early age and many of the children report that they have been the victims of physical, emotional or sexual abuse. Most have never received medical care before and as a result are often in desperate need of medical attention.
In June 2008 we launched our first mobile paediatric clinic. The medical team travels out into rural villages to provide comprehensive, free, accessible health care to these needy children.
Click

here

and watch a clinic in action!
Each child has an annual thorough paediatric assessment, covering physical, emotional, psychological health, vaccination status and the child's development.
We also evaluate their schooling, nutrition and behaviour and assess the conditions of the home they are living in.
Any children who are acutely unwell are treated by us, free of charge.
Every opportunity is used to teach basic health education at the homes on the importance of hand washing, brushing teeth, treating and preventing diarrhoea and so on.
If a child is in need of further hospital care we refer to nearby reputable hospitals and arrange for further investigations and treatment to be given. For each child we act as advocates to ensure they get the correct care they are entitled to. We want to demonstrate to others the value of these children and how to treat each one with the love, compassion and dignity they deserve.
When possible the team also runs play therapy sessions alongside the clinics which the children love!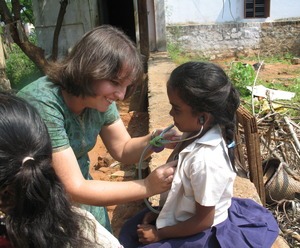 In May 2009, the clinic work was extended into nearby slum communities with a population of over 200 children.
May 2010 saw the launch of the community child health clinics in a mountainous tribal area. In partnership with a local hospital, free medical care is now being provided to many of the tribal children.
In addition, we ensure that children in need of eye tests/glasses and dental care are able to have the treatment they need. It is our hope that we can partner with opticians and dentists to provide a regular service for them.