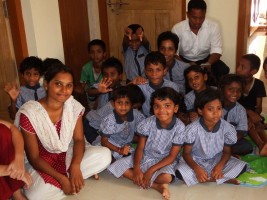 Welcome to The Bridge - 'Bridging the Gap'
"Education is the most powerful weapon you can use to change the world." said Nelson Mandela famously, and at Love the One we agree!
We meet many children on a daily basis who are not in school due to poverty, chaotic family life or having to be engaged in child labour. What will their future be? 1 in 5 children between the ages of 6-14 years do not attend school in India, the majority being girls.
Many start primary school, but drop out at an early age, often due to child labour and child marriage. There are estimated to be 90 million girls and women in India who are illiterate. The education available to children in poorer areas is also often sub standard, learning is by rote and children fear being beaten by the teacher's big stick - which then leads to school truancy and failure to pass their 10th standard exams at age 16 years.
We want to make a difference for children, no matter what age we meet them or what situation they are in.
We want to see children have the opportunity to return to school, to see children being able to learn, in a child friendly, caring environment where they can thrive, both academically and emotionally.
All children have a right to education, so we have designed 4 streams of The Bridge program to cater for all and 'bridge the gaps' so that all our children can reach their full potential.
Leapfrogs
This is the class that the children from our EPIC centres graduate into. This a year of creative and fun learning, in a slightly more formal classroom setting than our pre-school, preparing them for mainstream school the following year
Explorers
This is the informal learning year for older children who have either never been to school, or have dropped out of school. We offer a transition year of informal learning for these children, allowing them to come and build trust with us, begin learning with the aim to transition these children after one year, either into EXCEL and mainstream school, or into our Young Enterprise stream.
EXCEL
This is the stream where we have been able to integrate all the children into mainstream schooling.
We want all our children to excel, not to be satisfied with substandard teaching by rote, but to provide opportunities for them to really thrive. Chaotic family backgrounds mean our children need a lot of support.
From enrolling them into the best local school available, paying fees, helping to buy school uniforms and providing transport to and from school, we are there to help. School is finished by mid-morning and the children return to The Bridge for lunch and help with their homework.
Once that is out of the way the fun begins! Creative and stimulating lessons with extracurricular fun, something not available in our local schools, is provided by The Bridge team of teachers. IT lessons, sports & dance, art & craft, outdoor projects growing flowers and vegetables, and even science experiments and school trips! The children in EXCEL are affirmed and encouraged at every step and supported throughout their school year.
Young Enterprise
Some of our older children who enter the program may not be able to manage mainstream school for a variety of reasons. For these young people we want to support them in life skills, basic learning and vocational training schemes. To see them develop in skills, self-esteem and confidence, and find productive jobs they enjoy.
---
Positive role models
Our staff are trained to give affirmation and nurture to their students, to create a classroom atmosphere of fun, creativity, laughter with positive discipline.
Health and Nutrition
To give complete child centered support to our children in The Bridge program, each child also receives healthy and nutritious snacks, and a delicious and filling lunch, something which is a highlight for our often hungry children.
In addition to all of this, each child on enrollment gets a thorough top-to-toe health check up and when unwell throughout the year can attend our Love the One clinic for free.
If a child is more seriously unwell, or needs a life saving operation, then the Love the One clinic team walks with the family and child in referring to the correct hospital, paying hospital fees and supporting the family through that journey.
---
What's next?
Following on from the success of 'The Bridge', we have started to dream dreams for the children in Odisha, India. These children are bright and ready to learn, with so much potential and yet are held back from accessing a good education that would open up the world to them.
In January 2015 we committed to start our first steps in looking at the options of having our own school. A school where the poor and marginalised children are all welcome. A school where we have bespoke learning to allow all children to reach their own potential, and a school that has nurture of all children at its very core.
Can you imagine... children from rural villages, slum communities, off the streets, being able to come to a clean, child friendly environment where they will be known by name. A place where they can learn, free from fear, where we encourage them to use their imagination and creativity and to see our students coming out of the school system as well adjusted, caring individuals who would impact their own families, their communities and their nation.
If you are interested in knowing more, getting involved, supporting us financially, and especially if you are a teacher with a passion for education, then please get in contact with us!
If you would like the opportunity to sponsor and follow the progress of a child through The Bridge program then please click here and be part of the change!